Overview
Understanding the products and options available to you is the key to making informed selection decisions.
Each of the following product sections includes an overview video. If you're into details, spend some time exploring the features and benefits of each product category. Your design consultant will walk you through your final choices as they pertain to standard options versus upgrade options.
Carpet
If you haven't shopped for carpet in a while, you may be pleasantly surprised. Carpet styling and performance has seen many advances in recent years. Today's carpet manufacturers are using technology to combine texture, color and pattern to create exciting new looks. You will also see softer fibers, better stain resistance and advanced construction techniques that deliver great feel under foot while maintaining extreme durability.
Carpet is made up primarily of fiber or "yarn." If you read on, you'll see that we've outlined the choices you'll have in carpet fibers. Keep in mind that all carpet styles may not be available in all fibers.
See complete Features & Benefits »
No Surprises
Ceramic Tile
Ceramic tile offers beauty, durability and endless design possibilities.  It comes in so many colors and varieties that it's unlikely you would not be able to find a combination just right for your living space.  Add to ceramic tile's non-porous surface which creates a natural, low-maintenance finish, and you've e got a great floor.
Depending on your selection, ceramic tile can provide a more consistent, uniform appearance, or replicate a more organic look, similar to that created with natural stone (but for a lot less money than the real thing!). We've included many features and benefits of ceramic tile in this section, including size options, finishes, and even some details on its construction.
See complete Features & Benefits »
No Surprises
Hardwood
For natural warmth and charm and a look that pairs well with any design style, hardwood floors are an easy choice.  Hardwood floors add a beautiful touch and are highly praised in the resale home market.  Today's hardwood floors have made advances in style, durability, maintenance and care, making them a great fit throughout your home.
There are many aspects to consider when choosing hardwood flooring. The type of construction, finish and installation method are all decisions in which you will be involved. There are hundreds of choices in style and color with today's options, even spanning into exotic hardwoods. Most wood floors are available in several grades in a wide range of prices.
See complete Features & Benefits »
No Surprises
Laminate
Laminate flooring is the newest and hottest trend to hit the residential flooring industry.  It's becoming an increasingly popular choice for homeowners because of it's affordability, durability and a natural look that imitates a more expensive floor.  Laminate offers a variety of benefits, including:


High UV resistance, blocking the sun's harmful rays and protecting the floor pattern from fading over time.


Easy installation.
Easy repairs, since damaged planks can be replaced without contrasting with the pattern of surrounding boards.
Easy cleaning, since laminate flooring doesn't trap dirt. Most spills can be cleaned up with a terry cloth mop or sponge.
See complete Features & Benefits »
No Surprises
Natural Stone
No matter what type of stone you choose, natural stone offers many benefits and style choices for your home.
Materials range from old-world marbles to splashy granite. Colors span Autumn Brown, African Red, and Blue Pearl. Finishes can be honed (basic smooth finish) or flamed (rough and uneven), pillowed (rounded edges) or grooved. Veins run from fine-grained to patterns that resemble foliage. The look can say formal or funk; the feel can be cool as an Asian waterfall or warm like a winter hearth (thanks to radiant-heat systems).
If you read on, you'll learn more about the most popular types of stone – granite, travertine, marble, slate and limestone.
See complete Features & Benefits »
No Surprises
Resilient
The benefits of resilient flooring are easy to see, and feel!  There is no better value than resilient floors in terms of beauty, performance and price. 

Specifically, resilient floors are:
Ideal for use in areas of high moisture—such as kitchens and bathrooms

Naturally resistant to stains and spills from all types of substances
The easiest floor choice to clean and maintain
Requires only sweeping and occasional damp mopping
Resilient flooring comes in so many patterns, textures and styles, it would be hard not to find several that fit with your home's design.
See complete Features & Benefits »
No Surprises
Cabinets
There are many factors to consider when choosing cabinetry for your new home. Not to worry! By the time you've finished this section, you'll be armed with enough information to make the right decision.
Begin With Wood – Selecting a wood species is a great starting point. The ever-popular whites are now being replaced with natural woods such as Maple and Cherry. Oak, Hickory, and Pine also remain timeless options.
Think About Color – Natural or mid-tones are increasingly popular. To add a personal touch, consider incorporating more than one color or wood type.
See complete Features & Benefits »
No Surprises
Countertops
Once considered primarily a work area, countertops are now used as a major design statement in today's kitchens and baths.  Available in so many beautiful materials, colors and textures, selecting the right one for you may seem overwhelming.  That's why this section is designed to help you gain a clear understanding of the three main countertop materials – solid surface, stone and laminate.
Whether it is the extensive color palette and renewable properties offered by solid surfaces, the natural beauty and strength of real stone or the easy-to-maintain, affordability of laminate, there is something to fit every lifestyle and budget.
See complete Features & Benefits »
No Surprises
Window Treatments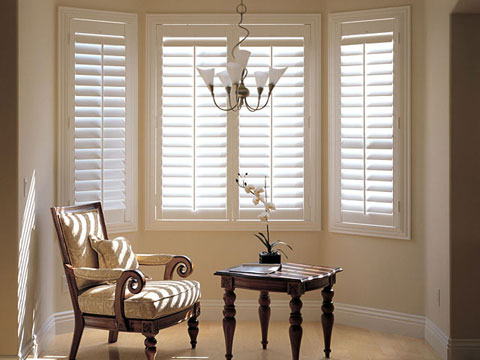 Beautiful.  Durable.  Functional.  Instinctively you know that these are the things you want in a window treatment.  With everything from the natural warmth of wood blinds to the clean, simple, crisp lines of Roman shades, our design consultant can help you artfully unite your home decor with professionally installed window treatments.
Window coverings are often overlooked until the last minute, yet these selections play a vital role in achieving your completed home design and are functionally necessary.  By selecting your window treatments during your design appointment, you'll be able to start enjoying them the day you move in.
See complete Features & Benefits »